A few weeks ago, we had dinner at Marina Oyster Bar and Restaurant and SM Sky Garden.  I wanted to try their oyster dishes when they opened a couple of years ago but somehow I never got around to it.  The opportunity presented itself when we scheduled a dinner for my aunt who was leaving for the US and there were mishaps on our original restaurant arrangements.  I happened to pass by their Sky Garden Branch and made some reservations on an impulse.  It was a good thing I did too because there was already a queue outside when I came back with our party.
Our party of twelve was promptly seated in the non-smoking area inside.  We initially contemplated on getting their party packages which was really affordable but decided to go ala carte in the end.  We got some of their Baked Oysters, Tokwa't Baboy, Grilled Tuna Belly, Beef Kare-Kare, Pinakbet, Sinigang, and Marina Fried Rice.  Their plain rice and iced tea orders are both bottomless.  We all went for the bottomless iced tea except for my aunt who wanted to try their Sago't Gulaman refreshment. It was something that she really enjoyed, had she not been a diabetic, she would have gone for second servings.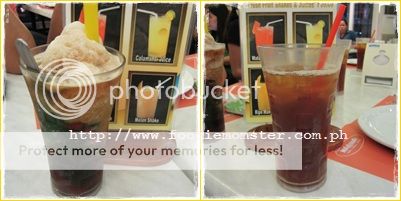 We all enjoyed the Grilled Tuna Belly and the Oysters and found ourselves ordering for seconds and thirds.  The Tokwa't Baboy and Pinakbet tasted good also but I wasn't happy with the Kare-Kare and Sinigang.  Nevertheless, it was a filling dinner at an affordable price.  We would probably stick to their grilled seafood dishes and oysters the next time we visit.