There's no doubt about it, Max's Restaurant remains to be the most loved Filipino restaurant where we all have celebrated baptisms, weddings, birthdays, and other special occasions.  Max's Restaurant is also our favorite go-to place when we crave for our comfort food shared over casual conversation in a relaxed homey setting.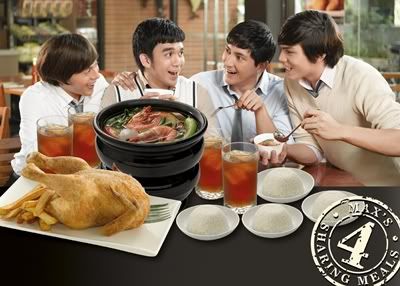 Knowing that sumptuous Max's favorite dishes are best enjoyed when shared with family and friends,  Max's brings to the table their latest group meal offering, 4Sharing Meals. "Max's 4Sharing Campaign is about understanding and responding to the needs of our customers, whether they are groups of teenagers hanging out together, young professionals meeting up for lunch, or seasoned Max's customers craving for their favorite comfort dishes. With Max's new offering, they get the best of everything – delectable dishes that are signature to Max's at the most budget-friendly price, so they can enjoy and share these meals to their heart's content," enthused Edgar Allan Caper, Marketing Director for Max's Restaurant.
"We have observed that Filipinos love to dine in small groups of three or four, and that they love to pair Max's Fried Chicken with heirloom dishes like Sinigang. Max's 4Sharing was specifically created for these customers. The generous serving, the scrumptious dishes and the value-for-money aspect create the perfect ingredients for our customers to fully engage in bonding moments with their friends and families," Caper added.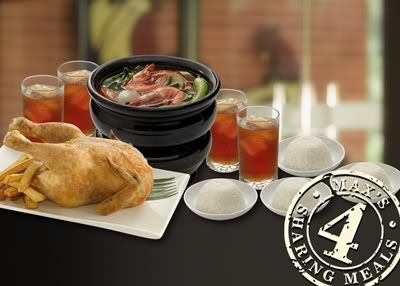 One whole, regular, sarap-to the-bones Fried Chicken, a bowl of piping hot Sinigang, four servings of rice, and four glasses of iced tea shared with family and friends make for a truly heartwarming meal.  What's more is that you get to choose from 4 varieties of Max's Sinigang favorites – Sinigang na Baboy, Sinigang Na Tyan ng Bangus, Sinigang na Hipon, and Sinagang na Tyan at Ulo ng Salmon.  You get all these for only PhP 799 or a total savings of PhP187!
Max's Restaurant takes 4Sharing Meals to the Max by not only providing you with the most affordable meal bundle but by also giving you a chance to win an iPhone 4S unit.  And, we're not talking about one iPhone 4S here.  Max's will be giving away 4 iPhone 4S units each week to 4 lucky online raffle winners for a period of 8 weeks.  That's a total of 32 iPhone 4S units up for grabs!  Now is the perfect time to make a beeline to Max's Restaurant.  I'll surely be taking hubby and our two tots (4Sharing is just perfect four our fam of 4!)  there this Sunday!
Max's 4Sharing Group Meal offering will be available for delivery and take-out, from April 15 to June 10, 2012 in all of Max's branches nationwide.  More meals shared means more chances of winning so Eat More 4Sharing Meals! Log on to www.maxschicken.com or visit www.facebook.com/maxsrestaurant to learn more about Max's 4Sharing Meals and the latest offerings of our favorite family restaurant.
**********
About Max's Restaurant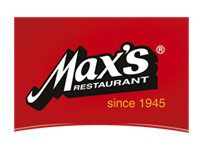 Max's, one of the country's leading fast-casual dining restaurant traces its roots to a family's generosity and passion for good food. Max's, "the house that chicken built," continues to innovate and expand worldwide with plans to open branches outside the United States. Today, Max's Restaurant has established itself as a household name, an institution, and a proud Filipino tradition, zealously upholding the values passed on from its early beginnings in 1945 to the present –day generation of food aficionados